Polish food has its fans all over the world. That's why when you're in Poland, you'd almost certainly like to visit one of the Polish restaurants. Restaurants in Poland, of course, are not limited to serving Polish cuisine, and you'll be able to find any type of food in this country.
In this blog post, you'll learn what to say when entering a restaurant, how to behave during the meal, and everything about ordering. This is just a short summary of all the useful Polish restaurant phrases that you'll get to know thanks to our article.
Table of Contents
1. Basic Polish Phrases in a Restaurant Before Dining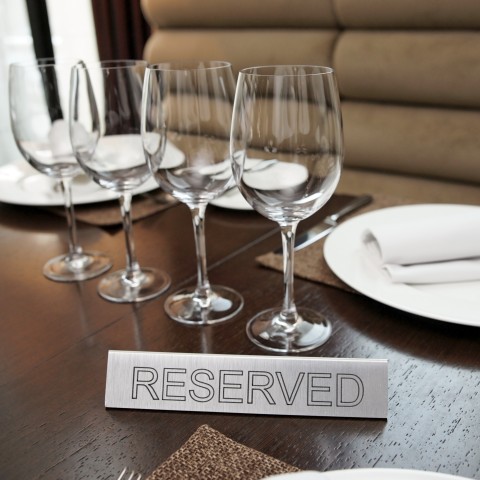 Polish people eat with forks, knives, and spoons. You can expect different cutlery in establishments serving different cuisines. For instance, a Japanese restaurant is likely to give you chopsticks. If you feel you don't know the right vocabulary, check out our lesson on food utensils and tableware.
A traditional Polish meal is obiad which is a big, warm meal, translated as lunch or dinner. Both translations are slightly imprecise. It consists of pierwsze danie (first course), usually soup, drugie danie (main course, literally: second course) and deser (dessert).
Now that you know a bit more about Polish food, you're ready to eat in a restaurant. However, before you can sit down and eat a meal, you have to get a table. Here's an example of how to book it in Polish: 
Czy mógłbym/mogłabym zarezerwować stolik dla dwóch osób na sobotę, 7 maja o 5 po południu? – Can I get a table for two on Saturday, May 7th, at 5pm?
The first form of the verb móc, is used by male speakers and the second by female speakers. Of course, we rarely call a restaurant to provide all details immediately. More probably, it would be a phone conversation that would go along these lines: 
A: Dzień dobry! Czy mógłbym / mogłabym zarezerwować stolik? – Good Day. Can I book a table?

B: Oczywiście. Na kiedy? – Certainly. For when?

A: Na sobotę, 7 maja. – Saturday, the 7th of May.

B: Na którą godzinę? – What time?

A: Na 5 po południu. – 5 PM. 
B: Na ile osób? – For how many people?

A: Dla dwóch. – For two.
B: Na jakie nazwisko ma być rezerwacja? – Under what name should I make the booking?

A: Nowak. – Nowak. 
Bookings are usually necessary for more expensive restaurants and very popular places, particularly over the weekend on busy days such as public holidays. Especially if you want to visit a particular place and you're in Poland for a short time, remember to make a booking to avoid disappointment.
Sometimes you'll also arrive at a restaurant without making a booking. Here are some of the most common Polish restaurant phrases to use in such a situation:
Poproszę o stolik dla 4 osób. – A table for 4, please.


Czy są stoliki na zewnątrz? – Do you have tables outside?



Czy są stoliki dla palących? – Do you have any tables in the smoking section?

Poland banned smoking in public spaces in 2010. This means that unless there's an outside section in a restaurant, there won't be any tables where smoking is allowed.  
Jak długo będziemy musieli czekać (na stolik)? – How long will we have to wait (for a table)?
Learn Polish restaurant phrases mentioned above to make your visit less stressful. A waiter or waitress should arrive at your table shortly after you sit down. If you need their attention, you can raise your hand slightly and smile. After you do it, they will arrive when they have a second. In busy establishments, you may have to be a bit patient.  
2. Ordering Food and Drinks
When you're already at the table, it's time to order. If you're in a restaurant serving Polish cuisine, you should try one of the top 5 Polish dishes. You can also use the phrases below to learn how to order food in Polish: 
Czy mogę prosić (o) menu / kartę dań? – Can I have the menu, please?


Jakie jest Państwa najpopularniejsze danie? – What's your most popular dish?



Jakie danie Pan / Pani poleca? – Which dish do you recommend, Sir/Madam?



Mam alergię na [product]. – I'm allergic to [product].

Ex. Mam alergię na orzechy. Czy mogę zamówić sałatkę bez orzechów? – I'm allergic to tree nuts. Can I get a salad without nuts?



Czy macie Państwo dania wegetariańskie / wegańskie? – Do you have vegetarian/vegan dishes on the menu?


Czy macie Państwo dania bez glutenu? – Do you have any gluten-free dishes?



Czy jest piwo bezalkoholowe? – Do you have non-alcoholic beer?



Na deser poproszę (o) ciasto czekoladowe. – I'll have chocolate cake for dessert.

Here are some more tips on choosing a meal in a Polish restaurant. You can also decide to order a dessert. Learn how to do it with our lesson on Reading a Dessert Menu. Polish cuisine is full of delicious cakes such as sękacz, szarlotka (apple pie), or makowiec (poppyseed roll) for you to try. You should be able to order them in a restaurant, or you can go directly to cukiernia (cake shop).   
Last but not least, we've also prepared a few sample dialogues that may come in handy when ordering food or drinks:
A: Coś do jedzenia? – Anything to eat?
B: Nie, dziękuję, tylko coś do picia. – No, thank you, I'll just have a drink.

A: Poproszę o Heinekena. – I'll have a Heineken, please.]
B: W butelce czy z nalewaka? – In a bottle or draft/on tap?
If you prefer to just have a drink, you don't have to go to a restaurant. Instead, you can head to bar (bar) or pub (pub). There are also places called pijalnie, for instance, pijalnia wódki, where you can have a shot or two of vodka. For teetotallers and coffee enthusiasts, there's always kawiarnia (coffee shop), where usually you can get a light meal, tea, and coffee. For more vocabulary on this topic, go to our lesson, "Let's have a bite at a Polish café".
By now, you should know how to order food in Polish. How much would it cost you to visit a restaurant in Poland? It depends on the restaurant, of course. You can see average prices by looking at the cost of living in a major Polish city, Gdynia.   
3. Learn Polish Restaurant Phrases to Use During Dining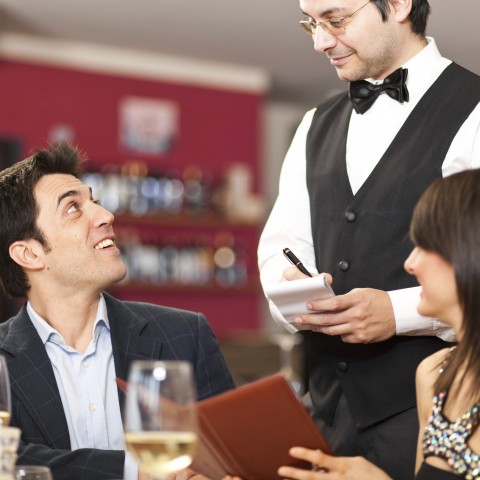 The food has arrived, and you're enjoying your meal… but there's something that doesn't allow you to fully enjoy yourself. Here are the most common Polish restaurant phrases for raising your concerns: 
Czy mogę prosić o [object]? – Can I have/get [object], please?

Ex. Czy mogę prosić o więcej serwetek? – Can I get some more napkins?

Czy mogę prosić o ketchup? –  Can I have the ketchup, please?
W moim nakryciu brakuje noża / widelca / łyżki. – I have no knife / fork / spoon.


To nie jest moje zamówienie. –  This isn't what I've ordered.



Chciałbym / Chciałabym porozmawiać z menadżerem. –  Can I speak to the manager, please?

The forms are for male and female speakers, respectively.



Zupa jest trochę za słona. –  The soup is a little salty.



Ryba jest surowa. –  The fish is raw.

Makaron jest niedogotowany. – The pasta is undercooked.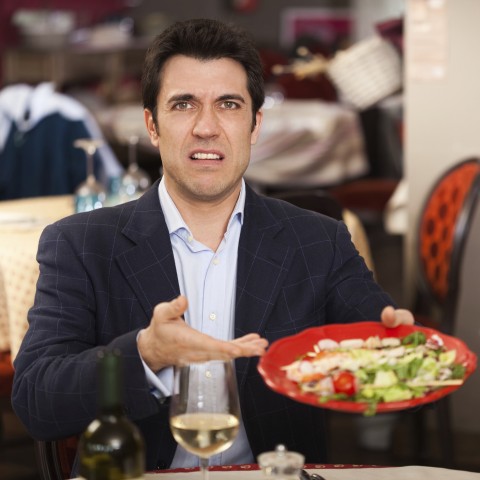 For more tips on what to do when you're unhappy about something at a restaurant, check out our lesson on making a complaint in Polish. Remember that complaining isn't always easy, and it should be done in a polite manner. It's rarely the waiter or waitress's fault what the kitchen has prepared.  
4. Polish Restaurant Phrases for After Dining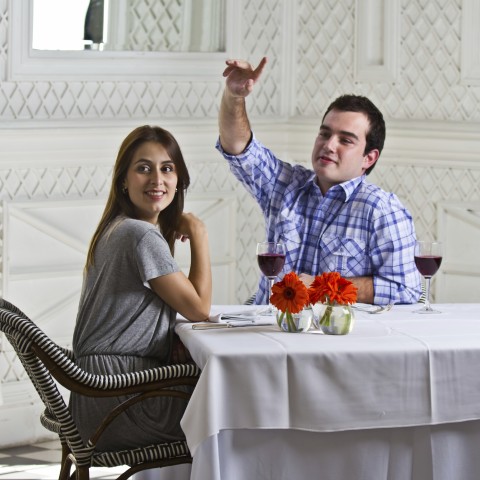 Basic Polish restaurant phrases also include the ones needed for when you're done eating. Here are some phrases that could be useful: 
Czy mogę prosić o rachunek? – Bill, please.

For more vocabulary when asking for the bill, visit our lesson "Check, please".


Czy można płacić kartą? – Do you take credit cards?



Czy możemy zapłacić osobno? – Can we pay separately?



Czy mogę to poprosić na wynos? – Can I have it as a take away please?

Asking for a doggy bag is becoming more and more acceptable. Some people still don't feel comfortable with it.  
A waiter or waitress often asks about the meal after you've eaten. Here's a sample dialogue that could happen at this stage of your meal: 
A: Czy posiłek Państwu smakował? – How did you like your meal?
B: Był znakomity. – Everything was delicious.
What about tipping in Poland? It's customary to tip 10%, and if you're feeling generous, you should even tip 15% or more. You can add it to your card payment, but cash tips are always most welcome.  
5. Final Thoughts
Thanks to our article, you've learned basic Polish phrases for restaurant interactions. Now you know how to order food in Polish and other most common Polish restaurant phrases for various stages of your restaurant visit. Do you already know when you'll be traveling to Poland to practice? Let us know in the comments section.
Can you say that you really speak Polish once you learn Polish restaurant phrases? Unfortunately not. There are so many words, phrases, and things to learn in this language! You can get access to a great platform that will help you speak Polish like a native. Join PolishPod101 and get access to all you need to master Polish!